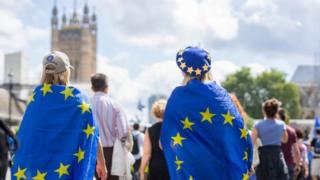 The country remains deeply divided over the likely impact of Brexit, but one clear winner has already emerged – politics departments at universities.
There has been a 28% surge in applications to politics courses since the debate about Europe took off in the run-up to the 2016 referendum.
Applications went up by from 34,275 in 2013 to 47,445 in 2018 – according to the UCAS, which oversees admissions.
Liverpool University has trebled the size of its politics department.
That trend is largely reflected at institutions across the country and the number of students accepted on to politics courses in the five years to 2018 rose by 27% to 7,990, according to UCAS.
Liverpool University politics lecturer Jon Tonge says that other dramatic political events, such as the Scottish independence referendum and the 2015 general election, have also boosted…


Source news bbc.com, click here to read the full news.