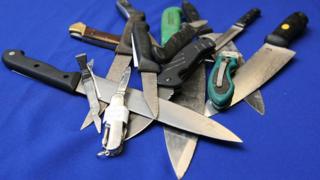 More than a thousand children were caught with weapons in school last year, according to a survey of 29 police forces in England and Wales.
The weapons included knives, blades, knuckledusters and a Taser stun gun, the Press Association survey found.
The children included a 14-year-old with a sword and a four-year-old with an unnamed weapon.
Head teachers' leader Geoff Barton said the findings were "grim but unsurprising".
The survey, which follows concern about rising levels of knife crime, was based on Freedom of Information data from police forces.
Rising problem
It found schoolchildren involved in incidents with many different types of bladed weapon, including lock knives, penknives, craft knives and garden shears.
In Bedfordshire, a pupil was caught in possession of a machete and in Manchester a samurai sword was recovered from school premises.


Source news bbc.com, click here to read the full news.