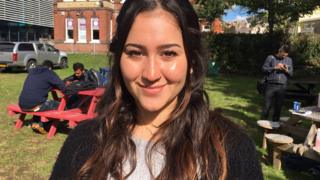 Destiny is feeling cheated and angry.
She is one of about 250 students at the University of Portsmouth left in the lurch when their accommodation was not finished in time for the new term.
Instead of a glossy new room, she has been stuck temporarily in a hotel, away from other students – and with no cooking facilities she's had to live on take-away food for nearly three weeks.
"I've been feeling really anxious. I can't concentrate on my studies," says the politics student.
There are 22 private student blocks across the UK that have been delayed this term – almost a third of those being built, according to student housing charity Unipol.
Lack of scrutiny?
Eva Crossan Jory, of the National Union of Students, says she is "extremely concerned at…


Source news bbc.com, click here to read the full news.