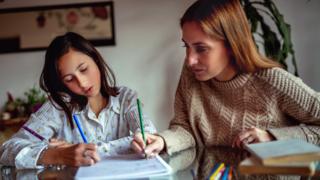 More than a quarter of secondary school pupils in England and Wales have received private tuition, according to research published by the Sutton Trust.
The highest levels are in London – with 41% of secondary pupils getting extra lessons outside of school, it says.
The social-mobility charity is calling for financial support for disadvantaged families to have access to tutoring.
"With costs of at least £25 per session, many parents can't afford it," said charity founder Sir Peter Lampl.
The annual report from the Sutton Trust tracks the prevalence of parents paying for tuition.
Wealth gap
Such extra lessons have been seen as a hidden factor in exam results – but because of the cost, the charity warns this gives richer families an unfair advantage.
Based on evidence from the National Foundation for Educational Research and a survey of almost 3,000…


Source news bbc.com, click here to read the full news.