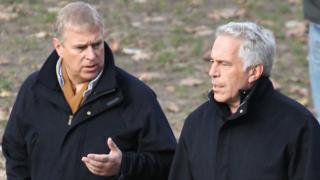 University of South Wales should not have hosted Prince Andrew in Newport while he faces "serious allegations", Plaid Cymru's Leanne Wood has said.
American woman Virginia Giuffre, who says she had sex with the Duke of York when she was 17, recently told a US TV network she was "trafficked" to him.
Prince Andrew has denied having "any form of sexual contact or relationship" with Ms Giuffre.
The university said the event, aimed at entrepreneurs, was arranged months ago.
University of South Wales hosted the prince's Pitch@Palace event, aimed at helping the work of entrepreneurs, on Tuesday.
Buckingham Palace, on behalf of the prince, has said the claims against him were "false and…


Source news bbc.com, click here to read the full news.