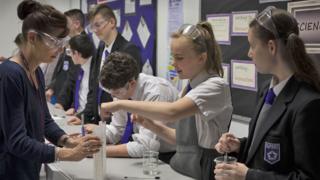 School funding cuts in England will be reversed if the government's three-year spending plan is implemented, an independent analysis of education budgets says.
But, the Institute for Fiscal Studies says, this would return funding to the levels of 2009 only.
And the think tank says in effect this would be a "13-year real-terms freeze".
The government made a priority of school funding in its spending review – promising an extra £7.1bn by 2022-23.
Prime Minister Boris Johnson, when the extra cash was announced, said he wanted to "ensure all young people get the best possible start in life".
"That means the right funding," he added.
Head teachers' leader Geoff Barton said the analysis "provides a sober assessment of the government's hyped-up announcements over education funding".
The overview of education budgets, commissioned by the Nuffield…


Source news bbc.com, click here to read the full news.