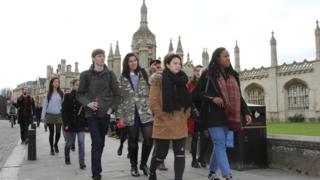 The proportion of state school pupils starting at the University of Cambridge this autumn will be the highest for decades – rising to 68%.
The university also says one in four are from "disadvantaged backgrounds".
Cambridge has faced accusations of being socially exclusive and this year ran a scheme ensuring more places for poorer youngsters.
Applicants have not been put off by "false perceptions", says director of admissions, Sam Lucy.
Record numbers
The official admission figures for 2019-20 will not be published until next year, but the university says the proportion of state school students among its UK intake will be the highest in records going back to the 1980s.
Last year, about 65% of students starting at Cambridge were from state schools – but this…


Source news bbc.com, click here to read the full news.