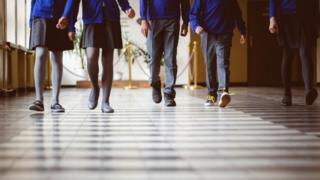 A government minister has pledged to change school uniform guidance after a campaign to cut costs for parents.
An inquiry heard blazers, trousers and socks can cost up to three times more when embroidered with school logos.
This has reportedly led to some parents going hungry so they can afford to buy school uniforms for their children.
Education minister Lord Agnew said: "We need to just tell these schools to not be so ridiculous, and I'm happy to amend the guidance."
He told the parliamentary inquiry into school holiday poverty: "It's mindless bureaucracy on the part of these schools.
"They don't realise that actually this is an additional…


Source news bbc.com, click here to read the full news.