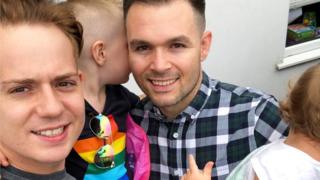 Two gay fathers have described how encounters with parents at their son's nursery school have left them wondering how difficult it will be for them to be accepted as he starts primary.
"When we have turned up at the school gates, people have asked, 'Is Mummy having a day off, then?'" they said.
"It scares me that our children could grow up thinking we're circus freaks."
But the couple, Rich and Lewis, said addressing the issue in class had made a real difference.
'Dad and Daddy'
"We asked our son's nursery teacher to read a story-time book about two daddies," said Lewis, who preferred not to share their surname for their children's privacy.
"Suddenly, all of his…


Source news bbc.com, click here to read the full news.