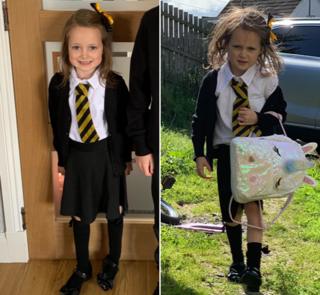 Before-and-after photos of a five-year-old's first day back at school have been shared thousands of times online after her mother posted the "really funny" images on Facebook.
Lucie, from East Renfrewshire, "likes to be clean" and looked immaculate before she left home, mother Jill said.
But by the end of a day of playing with her friends, her clothes were "a mess".
The photos were liked more than 10,000 times after Jill agreed to let a local newspaper put them on their page.
"She absolutely loves school and this was her first day in P2 so she absolutely loved having her new things on," Jill said.
When Jill saw the "state" of her daughter on Monday afternoon, she asked what…


Source news bbc.com, click here to read the full news.