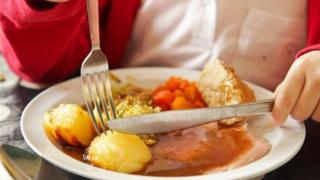 Legal school meal nutrition standards may need to be amended, or discarded, in the event of a no-deal Brexit, according to internal local council planning documents seen by the BBC.
The standards are designed to make sure school children are fed healthy food.
Many councils say school meal costs will rise and funding for free school meals increase if there is no-deal.
The government said the food industry was "well versed at dealing with scenarios that can affect food supply."
"We have a highly-resilient food supply chain and consumers in the UK have access to a range of sources of food. This will continue to be the case when we leave the EU."
Prime Minister Boris Johnson insisted earlier on Monday that no-deal Brexit preparations are on track.
Some councils are anticipating they will not meet nutrition standards because of a rise in food…


Source news bbc.com, click here to read the full news.