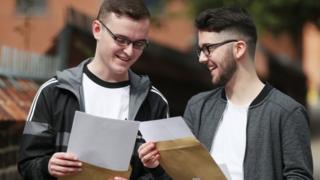 Some 364,380 UK students have found places on university degree courses, a day after A-level results came out.
A record 17,420 of these found their places through the clearing service, which matches candidates with places once the results are in, the University and College Admissions Service said.
Some 29.8% of all 18-year-olds have been accepted on to courses – another record for this point in the year.
Students in England, Wales and Northern Ireland got their grades on Thursday.
Despite record numbers of applicants to UK universities this year, fewer students were placed on courses as the results were released on Thursday.
This reflects the shift towards students seeking university places once they have their grades, with leading universities now offering places in clearing.
Some 2,260 more candidates found their places via clearing this year than last…


Source news bbc.com, click here to read the full news.