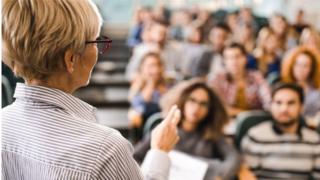 Labour has renewed calls for a "cradle-to-grave" National Education Service, after a "catastrophic fall" in adult learners.
Shadow education minister Gordon Marsden has called for action, saying government cuts have led to fewer adults choosing to study later in life.
Labour says millions of adults in the UK lack basic skills and are unable to access education and training.
The government says further education and skills is a priority.
'Personal Empowerment'
Labour's says its Nation Education Service – a 2017 manifesto pledge – would be "free at the point of use" and "open to all regardless of age, background or circumstance".
A learner-centred system could help reverse the decline in adult learning, according to the party's Lifelong Learning Commission.
The commission's interim report says that "lifelong learning should ensure that all…


Source news bbc.com, click here to read the full news.