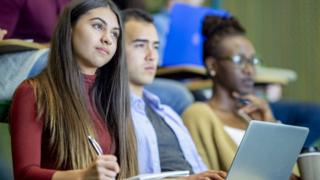 GSM London, one of the biggest private higher education providers in England, has gone into administration – and will stop teaching students in September.
The college says it has not been able to "recruit and retain sufficient numbers of students to generate enough revenue to be sustainable".
It teaches about 3,500 students – with degree courses validated by the University of Plymouth.
The college, based in Greenwich and Greenford, says 247 jobs are at risk.
Private providers
The for-profit college is owned by a private equity company and focused on business courses.
It is one of a wave of private providers encouraged to promote more of a market in higher…


Source news bbc.com, click here to read the full news.