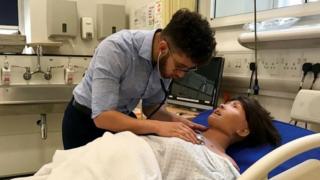 "You'd see people getting stabbed. You'd see people getting robbed for their belongings."
In 2010, aged 14, Yousef El Tawil, felt "swept into a vortex of pessimism".
At the end of Year 9, instead of heading home after school to do his homework each day, he fell in with classmates who spent hours hanging around the chicken shops on his local High Street, in Newham, east London.
They weren't bad people, he says, "it's just we lacked a certain motivation, we lacked aspirations".
And they viewed school as futile, "like, 'There's nothing for me here,' and to be fair it was kind of cool to be in that crowd".
From the beginning of Year 10 Yousef was "on report", having to be signed off for…


Source news bbc.com, click here to read the full news.