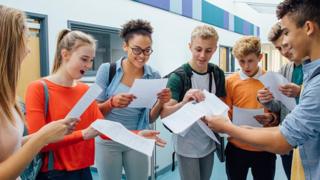 Universities are considering whether to shift the timetable of the admissions system so that applications would take place after students have their A-level results.
A review into the admissions process has been launched by Universities UK.
It will examine whether it would be fairer to move away from a system based on predicted exam grades.
Paul Cottrell, head of the UCU lecturers' union, said an "overhaul of university admissions is long overdue".
The review, to be chaired by Paddy Nixon, vice-chancellor of Ulster University, says it will "draw on best practice from across the UK".
But universities in Scotland have run their own review of admissions, with an emphasis on ensuring access for applicants from deprived areas.
Fairer choices
Universities have been under pressure over entry systems – with criticism over the increasing use of unconditional…


Source news bbc.com, click here to read the full news.