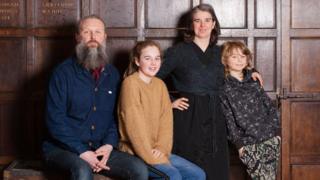 When performers Grace Surman and Gary Winters and their two children decided to form a family art collective, the results involved rolling in mud, mass school drumming and a homage to Greta Thunberg.
Every child is an artist. That's what Pablo Picasso said.
Not every child, though, is an equal partner in a professional art collaboration with their mum and dad.
As well as being the bundles of innocent creativity that Picasso probably had in mind, Merrick, nine, and 12-year-old sister Hope have been involved in their parents' performance art since before they knew that's what it was.
When Merrick was one, he starred in his mum's tender 12-minute video I Love My Baby And My Baby Loves Me.


Source news bbc.com, click here to read the full news.