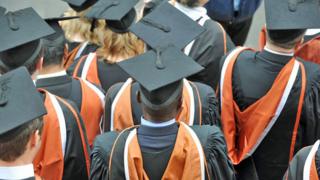 The proportion of students in England awarded first-class degrees continues to increase – rising by 80% since 2010-11, the university watchdog says.
The Office for Students, warning of grade inflation, says for almost three-quarters of universities such increases in top grades are "unexplained".
The University of Surrey increased its proportion awarded first-class degrees from 23% to 47% of students.
Education Secretary Damian Hinds warned against "unfair practices".
"Worries about grade inflation threaten to devalue a university education in the eyes of employers and potential students," said Susan Lapworth, director of competition for the Office for Students.
'Disappointing'
The higher education watchdog also examined why the proportion awarded top degrees might have risen from 16% to 29%, such as students arriving from school with better…


Source news bbc.com, click here to read the full news.