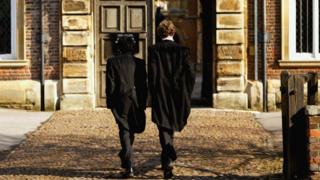 Eton College will offer 12 free sixth form places to boys "with tremendous potential but limited opportunity".
The Orwell Award will be open to those who do not have the highest grades, recognising that their potential may have been limited by circumstances.
The places will be offered to Year 11 pupils at non-selective state schools and will cover full boarding fees.
Former prime minister David Cameron and Tory leadership hopeful Boris Johnson are among Eton's alumni.
Both the Duke of Cambridge and the Duke of Sussex were also pupils at the Berkshire school, which charges fees of more than £40,000 a year.
Private school and Oxbridge 'take top jobs'
Do schools help or hinder social mobility?
Headmaster Simon Henderson said the school had a tradition of offering free places "to deserving pupils" since it was founded in 1440, adding that there were…


Source news bbc.com, click here to read the full news.