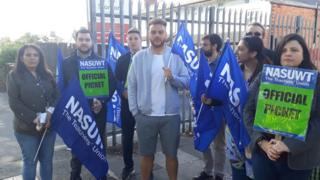 Teachers have gone on strike over concerns about violence and knife threats from pupils.
Some staff at Starbank Secondary School in Birmingham said they received little support from bosses in confronting badly-behaved pupils.
A teaching union says a "knife audit" needs to take place, along with extra training for teachers and a behaviour policy for pupils.
Birmingham City Council said it was in discussions with trade unions.
It added that "suitable provision has been made to ensure that lessons will continue" during the two-day strike.
Parents said they do not feel their children are safe at the school.
Latest news from the West Midlands
About 30 teachers took to the picket line at the school.
Paul…


Source news bbc.com, click here to read the full news.