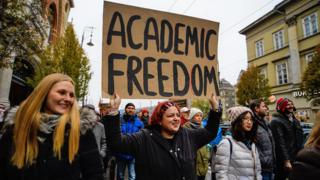 The head of a university forced out of Hungary said Western governments have been "remarkably weak" in defending the right to academic freedom.
Michael Ignatieff, president of the Central European University, said it was a "scandal" that his university had been allowed to be "driven out".
The university, founded by George Soros, is having to move its courses to a new campus in Vienna in Austria.
He said the UK's representatives had said "almost nothing" in response.
"The all-absorbing question of Brexit has meant that Britain has been absent from any European debate about democratic freedom," said Mr Ignatieff, speaking at the Higher Education Festival at the University of Buckingham.


Source news bbc.com, click here to read the full news.