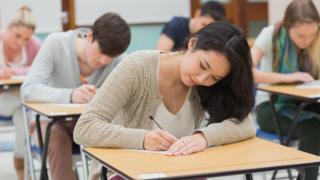 A further maths A-level paper due to be sat by about 7,000 candidates on Thursday has been replaced following the leak of an earlier exam last week.
Two questions from the Edexcel A-level maths paper were shared on social ahead of it being sat on Friday.
Pearson, the exam board's parent company, says it is replacing the latest paper and an unnamed centre is being investigated for the leak.
It described the move as "precautionary steps" to protect students.
Pearson said their investigation had revealed a package containing the further maths paper had been opened by an individual at the centre concerned.
According to the company, there is no evidence to suggest the withdrawn test or any of its questions have been leaked but it is taking "precautionary steps" to safeguard the exam for the students.


Source news bbc.com, click here to read the full news.