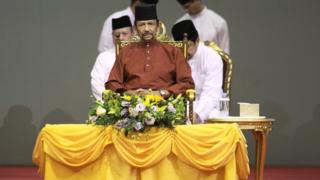 King's College London (KCL) have revoked the Sultan of Brunei's honorary doctorate, after his country made gay sex punishable by stoning to death.
Strict new Islamic laws came into force in April in the south-east Asian nation, advocating punishment for theft by amputation.
The move has sparked international condemnation.
A university spokesman said the new law "contradicts the values and freedoms we uphold at King's".
In a statement KCL said: "The willingness of the Sultan of Brunei to inflict death by stoning and other egregious penalties upon individuals in Brunei simply because of who they are or whom they love provoked real anguish within our community."
The award to Sultan Hassanal Bolkiah was made in 2011 for his "commitment to higher…


Source news reuters.com, click here to read the full news.