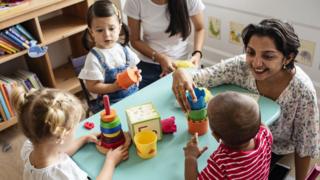 Sure Start centres, aimed at improving early years health and education in England, brought "big benefits for children's health", researchers say.
The Institute for Fiscal Studies (IFS) found a positive impact from the scheme, launched 20 years ago as a flagship of Tony Blair's Labour Party.
But the think tank warns that funding has been cut and 500 sites have closed.
The Local Government Association says councils have "done all they can within ever tightening budgets".
The report examines the effect of Sure Start, an early intervention policy designed to support the wellbeing of children before they started school.
Health education
The centres provide parents with information and advice about health, education, childcare and employment, particularly in disadvantaged areas.


Source news reuters.com, click here to read the full news.