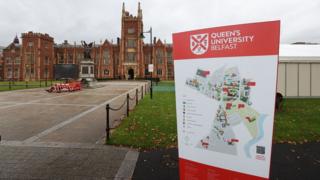 Queen's University (QUB) is to offer students a 'rent holiday' of up to three months if they want to leave their university accommodation.
About 3,500 students live in halls of residence run by the university.
They have been told they do not have to pay rent if they want to move out of that accommodation for up to three months to study at home.
The university said 27 new cases of Covid-19 are being identified among students each day.
This is based on a seven-day rolling average.
Pro Vice Chancellor Prof Stuart Elborn said around half of the daily cases are identified at the Elms BT9 halls of residence in south Belfast.
He said the data is "consistent with infection in other regions in Northern Ireland" and the result of "careful monitoring and contact tracing".
"For the next term if they wish to suspend their contract we will do that and we…


Source news bbc.com, click here to read the full news.