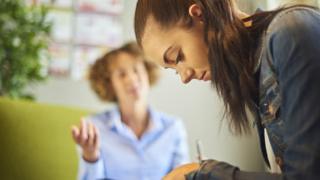 Teenagers who struggle with depression significantly underachieve at GCSE, according to new long-term study.
The King's College, London, team suggested pupils affected be allowed to stagger or postpone their exams.
It comes at a time when rates of children's mental health are expected to increase due to experiences during the Covid lockdown.
Data on rates of children's mental health referrals during the lockdown period is not yet available.
But many voluntary agencies working with young people say they have seen requests for support increase.
And ministers are currently deciding how they can hold exams, including GCSEs, next year that are fair to those who have missed out on education during the lockdown and beyond.
Progress droops
The research, led by King's PhD student Alice Wickersham, tracked the educational results of about 1,500 children over…


Source news bbc.com, click here to read the full news.