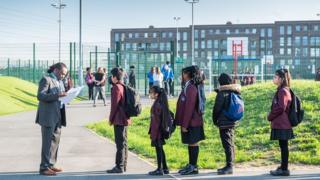 The number of schools in England sending home groups of pupils because of Covid-19 incidents has quadrupled in a week, according to the latest official figures.
Based on attendance last Thursday, they show 4% of schools not fully open because of confirmed or suspected cases – up from 1% the previous week.
This could mean about 900 schools sending home pupils.
Overall attendance has also dipped slightly from 88% to 87%.
This means over a million children were off school that day, whether from Covid-related or other reasons, with more pupils missing from secondary schools than primary.
Testing worries
The fall in attendance should "ring alarm bells" for the government, said Paul Whiteman, leader of the National Association of Head Teachers.
"Clearly the failure of Covid testing sits at the heart of this. The inability of staff and families to successfully get tested when they display symptoms means that schools are struggling…


Source news bbc.com, click here to read the full news.