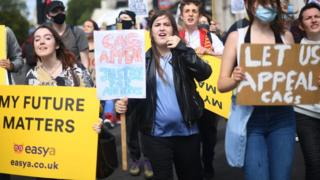 The U-turn in this summer's exams in England became unavoidable, as numbers challenging grades would have overwhelmed the appeals system, said Education Secretary Gavin Williamson.
Facing questions from MPs over the exams fiasco, he defended the principle of using calculated grades, but said too many "inconsistencies" emerged.
Mr Williamson also denied making the exams watchdog take down its guidance.
He also told MPs schools would be able to order more Covid-19 testing kits.
With head teachers warning that schools might have to send home pupils because of delays with testing, Mr Williamson said he had met Baroness Harding, head of the test and trace system, to emphasise that testing for schools had to be a "priority".
Schools can now order replacement testing kits, he said, after they were sent an initial batch of 10 per school.
But he would not…


Source news bbc.com, click here to read the full news.