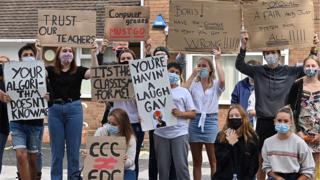 A-level results day started terribly for Grace Kirman. The sixth former in Norwich had been waiting anxiously to hear whether she would get the grades needed for her dream university place.
But it was bad news and a rejection email had arrived. The grades produced by the exam algorithm had been lower than her teachers predicted – and the offer to study biochemistry at Oxford University was disappearing before her eyes.
"It wasn't my fault and it was really unfair," said the student from Notre Dame High School.
She'd worked extremely hard for her A-levels, it had been her big ambition, she'd been on a university outreach scheme for disadvantaged…


Source news bbc.com, click here to read the full news.