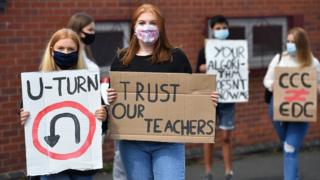 England's exams regulator, Ofqual, says it warned the government of the risk of widespread dissatisfaction with its emergency grading system.
Chairman Roger Taylor told MPs there were good reasons to attempt it, including fairness between schools and continuity from year to year.
But he said other options could have been used, such as delaying exams or schools could have issued certificates.
Many A-levels were downgraded after schools' estimates were standardised.
Labour accused England's Education Secretary Gavin Williamson of trying to blame Ofqual for failings with replacement results for cancelled exams – but it was "now clear he was responsible".
At Prime Minister's Questions, Labour leader Sir Keir Starmer challenged Boris Johnson over when did he "first know that there was a problem with the algorithm?"
Mr Johnson defended his government's…


Source news bbc.com, click here to read the full news.