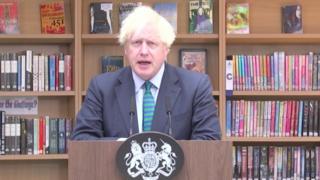 Prime Minister Boris Johnson has blamed a "mutant algorithm" for this summer's exam results fiasco.
"I am afraid your grades were almost derailed by a mutant algorithm and I know how stressful that must have been," Mr Johnson told pupils at a school in Leicestershire.
Replacement grades caused chaos and required changes to some results.
In the fall-out from the exam problems, the Department for Education's permanent secretary has stepped down.
The National Education Union called Mr Johnson's comments "brazen" and accused the prime minister of trying to "idly shrug away a disaster that his own government created".
Mr Johnson had been empathising with the problems of young people during the pandemic – including the "mutant algorithm" for exam grades.
"I'm very, very glad that…


Source news bbc.com, click here to read the full news.