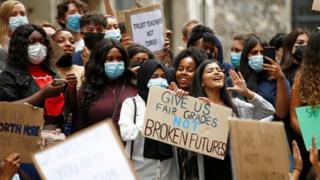 The exams regulator is reviewing its guidance on how to appeal against A-level and GCSE grades using mock exam results – hours after publishing it.
On Saturday Ofqual set out what constituted a "valid" mock exam for students appealing against A-level results in England.
But the regulator has now suspended those criteria, and further information will be published "in due course".
One Tory MP described it as a "huge mess" that was "unacceptable".
Neither A-level nor GCSE students were able to sit public exams this year because of the coronavirus pandemic, and almost 40% of A-level grades were marked down from teachers' predictions by an Ofqual algorithm.
The Conservative chairman of the education select committee, Robert Halfon, said the decision to review appeals guidance only announced on Saturday left students and schools in confusion.
"That is a huge…


Source news bbc.com, click here to read the full news.