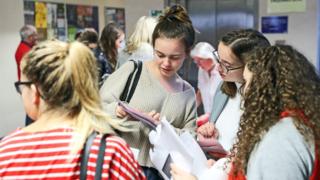 Schools in England can appeal if they can show this year's GCSE and A-level results do not reflect recent improvements, the exams watchdog says.
Ofqual's announcement comes amid concern that the manner in which grades are calculated in the absence of exams could penalise some pupils.
In Scotland there were claims that a similar system marked down poorer pupils more heavily.
Individual pupils will not be able to challenge their grades, however.
With exams cancelled due to the coronavirus pandemic, A-level results on 13 August and GCSE results a week later are being calculated by combining teachers' estimated grades for individual pupils with a statistical model based on the school's past results.
Basically,…


Source news bbc.com, click here to read the full news.