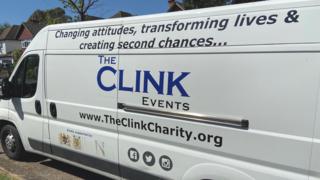 If you were ordering a take-away meal, you might not expect a prison to offer its services.
But Brixton prison in south London is cooking, selling and delivering take-away meals.
The intention is to keep its training restaurant functioning during the pandemic.
The prison has a professional-standard restaurant, the Clink, which teaches culinary skills to prisoners – to help them get jobs when they are released.
But the Covid-19 pandemic has stopped guests coming inside the prison to eat at the restaurant – and its closure took away the inmates' training.
So the restaurant has turned to selling take-aways – clink@home – with meals brought to customers in the prison project's delivery van.


Source news bbc.com, click here to read the full news.