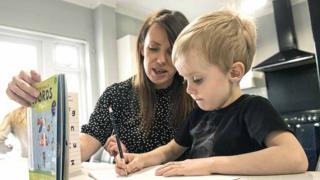 A majority of British children struggled to continue learning at home during the lockdown, a report says.
The Office for National Statistics research found that of the 52% who struggled, three-quarters of parents gave a lack of motivation as a reason.
The research, based on weekly household surveys between April and June, also found women's well-being was being more adversely affected than that of men.
It also showed wide disparities in what families were able to do.
The ONS researchers carried out nationally representative surveys of more than 12,000 people in Great Britain between 3 April and 7 June about their experiences of home-schooling during the coronavirus pandemic.
'Not motivated'
Schools…


Source news bbc.com, click here to read the full news.