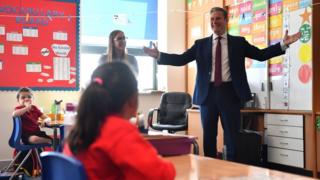 Labour leader Sir Keir Starmer says parents will be in an "impossible position" if they have to stop working from home but do not have access to childcare or children's summer clubs.
The opposition leader called for more financial support for holiday activities and childcare providers.
Both Sir Keir and Prime Minister Boris Johnson visited schools on Monday.
Mr Johnson hailed the implementation of school funding increases that were announced last year.
At Whitmore Park primary school in Coventry, Sir Keir said there was a lack of a coherent plan for getting parents back into their workplaces, if they also had to balance this with childcare responsibilities.
The Labour leader…


Source news bbc.com, click here to read the full news.