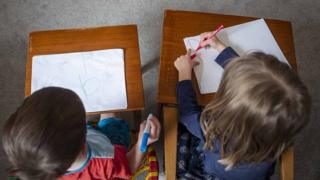 Having to home-school during the Covid-19 pandemic is taking a toll on both parents and children, campaigners warn.
The group, Sept for Schools, says it has heard from parents reduced to tears as they balance work with educating.
The group says the assumption that parents will readily resume their role as educators in the event of future lockdowns is "not sustainable, fair or workable as an education solution".
The government says all pupils will be back in school in September in England.
Schools in Scotland and Northern Ireland are aiming for a full return for all pupils when the new term begins. In Wales, ministers have said blended learning – a mix of home and classroom learning – would be likely for…


Source news bbc.com, click here to read the full news.