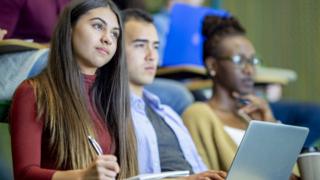 Education Secretary Gavin Williamson is to scrap a commitment to get 50% of England's young people into university, which was reached for the first time last year.
He is also promising a German-style further education system with a focus on higher technical qualifications.
Tony Blair set the target over 20 years ago to boost social mobility.
But Mr Williamson says university education is not always what the individual or the nation needs.
Last week the Universities Minister Michelle Donelan attacked England's universities for "dumbing down" and "recruiting too many young people on to courses that do nothing to improve their life chances".
But the head of the University Alliance, Vanessa Wilson, said these were "unsubstantiated claims" that failed to understand students' ambitions for going to university and that the minister had provided no evidence…


Source news bbc.com, click here to read the full news.