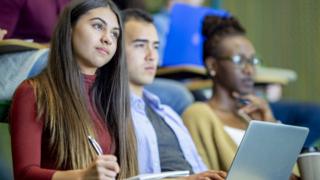 Universities in England have been accused by the universities minister of recruiting too many students for courses which do nothing to help their career chances.
"Quite frankly, our young people have been taken advantage of," said Michelle Donelan, at a widening access event.
She warned of universities "dumbing down" and questioned the value of courses compared with student debt.
"Social mobility isn't about getting more people into university," she said.
Speaking to an event about improving access to higher education, England's universities minister said rising numbers of students were not getting good value from universities.
"For decades we have been recruiting too many young people on to courses that do nothing to improve their life chances or help with their career goals," she told the National Education Opportunities Network (NEON) group.
"Too…


Source news bbc.com, click here to read the full news.