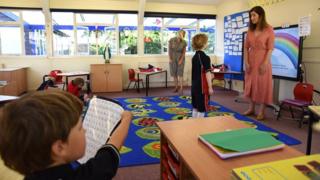 Head teachers' leaders have reacted angrily to a government attempt to downplay the need for social distancing in schools, ahead of full reopening.
A Department for Education blog says primary pupils in England do not need to keep 2m apart, and that: "this has been the case throughout".
The National Association of Head Teachers called the blog post "disingenuous".
But a DfE spokesman said the department was "absolutely standing by it".
The blog says: "Primary pupils do not and have not needed to be kept apart in the classroom and we are encouraging primary heads to use the capacity they have, and the flexibility we have given them, to bring more groups of children back into school if they can work within the protective measures."
But when primary schools reopened to…


Source news bbc.com, click here to read the full news.