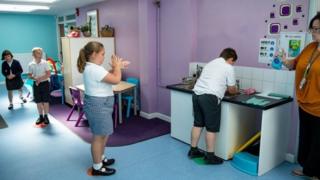 There are fears some of Wales' most vulnerable children will not be seen by teachers after a row means some schools will only reopen for three weeks.
On Monday, June 29, children will start heading back to the classroom for a "check in" before the summer break.
But some councils will not extend the summer term by a week, after contract talks with unions, local authorities and the Welsh Government stalled.
One headteacher said it would leave children vulnerable over the holidays.
Kerina Hanson, vice-president of the National Association of Head Teachers, said many teachers would be "feeling they made a promise to parents and now we are breaking that…


Source news bbc.com, click here to read the full news.