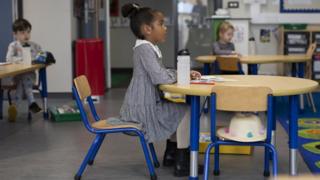 Plans for all England's primary children to return for a month before the summer break have been dropped by Education Secretary Gavin Williamson.
Confirming the move, he told MPs he wanted all children back to school in September and that "exams will take place next year".
Labour's Rebecca Long-Bailey expressed "dismay" at how the plans for bringing back pupils had been handled.
Head teachers' leaders said the plan had never been a practical possibility.
It comes as new figures on the number of children attending schools were published by the Department for Education.
How many pupils are going back to school?
Primary pupils in England in Reception, Year 1 and 6 began to return to school last week – and DfE figures show how many…


Source news bbc.com, click here to read the full news.