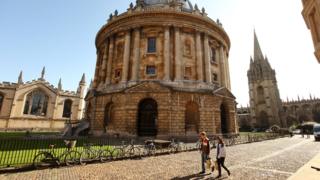 Oxford University intends to use face-to-face and online teaching at the start of the new academic year in October, its vice-chancellor has said.
Prof Louise Richardson said it had "every intention of resuming the life of the university next term with as large a student cohort as possible".
But she warned in a staff email that emerging from coronavirus "will be a slow and protracted process".
The university announced a year-long recruitment freeze last month.
Prof Richardson said a group was "drawing in widespread representation and expertise from colleges and departments" about how teaching could proceed and adhere to safety guidelines for its Michaelmas…


Source news bbc.com, click here to read the full news.