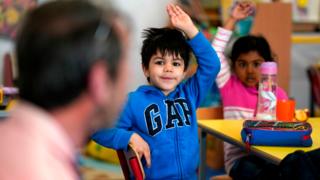 The government and unions should "stop squabbling and agree a plan" to reopen schools safely, the children's commissioner for England has said.
Anne Longfield said many disadvantaged children were losing out because of schools being closed for so long.
Teachers' leaders met the government's scientific advisers on Friday, but did not agree how to return to the classroom safely.
Some local authorities have said they will not reopen schools from 1 June.
The government has set out plans to begin a phased reopening of primary schools in England from 1 June.
But the plans have been challenged by teachers' unions, who have disagreed with the Department for Education over whether it is safe to return to school.
What does the children's commissioner say?
Schools need to open "as quickly as possible", Ms Longfield has said, as she called for stronger safety…


Source news bbc.com, click here to read the full news.