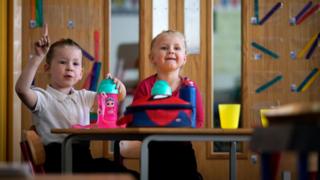 Teachers' unions are to meet the government's scientific advisers later to seek assurances that it will be safe to open schools in England.
The education secretary wants primary schools to begin opening from 1 June.
But the National Education Union's Kevin Courtney said parents and teachers needed to be "absolutely clear" about the "level of safety".
Meanwhile, one of England's biggest academy trusts says it will go ahead with opening its schools on 1 June.
Ahead of a meeting with the chief scientific adviser, chief medical officer and chief nursing officer, Mr Courtney said: "We want to hear what the science is. We want to know how much children transmit to one another and to adults.
"We also want to know what the risk is for society as a whole, and whether they now have contact tracing running well enough so that it can keep the case count low…


Source news bbc.com, click here to read the full news.