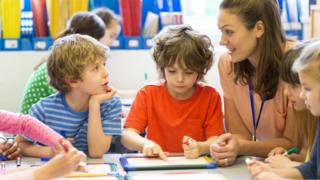 Plans to reopen primary schools in England do not have adequate safety measures and need to be halted, warns an alliance of school teachers' unions.
A joint education union statement called on the government to "step back" from a 1 June start date.
In the House of Commons, Education Secretary Gavin Williamson warned against "scaremongering" over safety.
But his department's chief scientific adviser cast doubt on suggestions the virus spreads less among children.
Mr Williamson, facing questions from MPs on reopening schools, rejected fears over safety and said it was the most disadvantaged who were losing out from schools being closed.
"Sometimes scaremongering, making people fear, is really unfair and not a welcome pressure to be placed on families, children and teachers alike," he told MPs.
Mr Williamson said that pupils, like teachers, would be a…


Source news bbc.com, click here to read the full news.