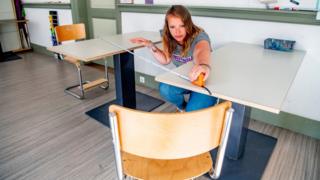 Re-opening schools is going to be one of the biggest symbolic steps towards loosening the lockdown.
It has divided opinion about whether it can be safe – and who should go back first.
But there are places, such as Denmark and Germany, where it's already happening.
"There was anxiety in the community," says Dom Maher, head of the international section of St Josef's school in Roskilde, on the Danish island of Zealand.
"A large percentage of parents were in two minds," he says. "And there were some who decided to wait a few days to see."
But almost three weeks after re-opening, he thinks it has worked better than might have been expected.
Children were relieved to be back and…


Source news bbc.com, click here to read the full news.