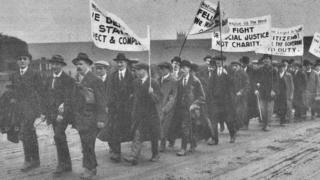 A century ago blind and partially sighted people marched on London to lobby the government to improve their living and working conditions. The 1920 Blind March has become a milestone in the history of the disability rights movement. But as recreating a large gathering is not possible in current circumstances, blind people are using their daily personal exercise to mark the anniversary.
Sixteen years before the historic Jarrow Crusade, a less well-known but perhaps even more remarkable trade union march arrived in London to demand action to end poverty.
Carrying banners with slogans such as "Social justice not charity", the protesters had travelled hundreds of miles to demand state aid, for those who like themselves were blind or visually impaired.
Over the previous three weeks the 250 marchers had promoted their cause to the wider public at large…


Source news bbc.com, click here to read the full news.