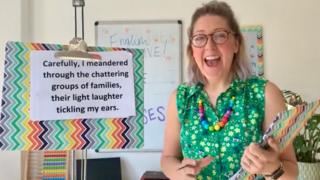 An English teacher says she feels "excited, overwhelmed and energised" after followers of her online lessons grew to more than 40,000.
Holly King-Mand, 36, provides daily English Live lessons and had 74 Facebook followers at the start of the UK's lockdown.
It now stands at 44,000 across three social media platforms.
"Without teaching, I'd be finding [lockdown] a lot more stressful," said Mrs King-Mand, from Leighton Buzzard.
Mrs King-Mand, who lives with two daughters aged two and nine months, hosts a free 30-minute lesson every weekday, aimed at Key Stage Two and Three levels (ages 7-14).
She launched lessons and resources on Facebook, having just finished maternity leave, to support parents…


Source news bbc.com, click here to read the full news.