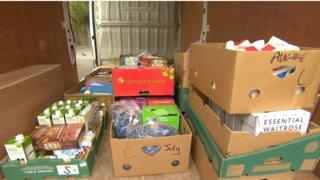 A charity fund to help communities hit hard by coronavirus has started distributing millions of pounds in donations.
The National Emergencies Trust, set up after the Grenfell fire, has already raised £20m for its coronavirus appeal and is aiming to raise far more.
Its chairman Lord Dannatt hopes the fund will bring the UK together.
And Sue Fortune of Lincolnshire Community Foundation said it was "hugely important to donate".
"Those who are self-isolating with underlying health conditions need access to food, they need access to advice and they need access to medicines to keep them alive," said Ms Fortune.
As the coronavirus lockdown hits livelihoods, there has been a 300% increase in demand for food and hygiene parcels at the Horncastle…


Source news bbc.com, click here to read the full news.